Just like the true celeb she is, Kylie Jenner designed new make-up cosmetics collection. However, those are not just any cosmetics. Specially for her 19th birthday, she created collection of lip glosses, eye shadows, eyeliners and brows shades. The entire thing can be placed in the cosmetic bag and it can be joined by a make-up brush. Are you interested?
Birthday collection from Kylie Jenner holds plenty of cosmetics. There are three lip glosses ( (Lord Metal, Poppin Gloss and Leo Matte Liquid) and six mini lip glosses: Exposed (warm shade of beige), Dolce K (nude), Koko K (light pink), Candy K (warm shade of pink), Kristen (shade of brown) and Leo (dark red shade). There are also cosmetics necessary for eye make-up. Those will be: two eye shadows (Rose Gold Creme Gel Shadow and Copper Creme Gel Shadow), eyeliner Creme Gel in dark brown colour and Pencil Eye Liner. All products can be put in the cosmetic bag with the image of lips. Furthermore, cosmetics for eye make-up you will apply with angled brush, with which Kylie Jenner has complemented her birthday collection.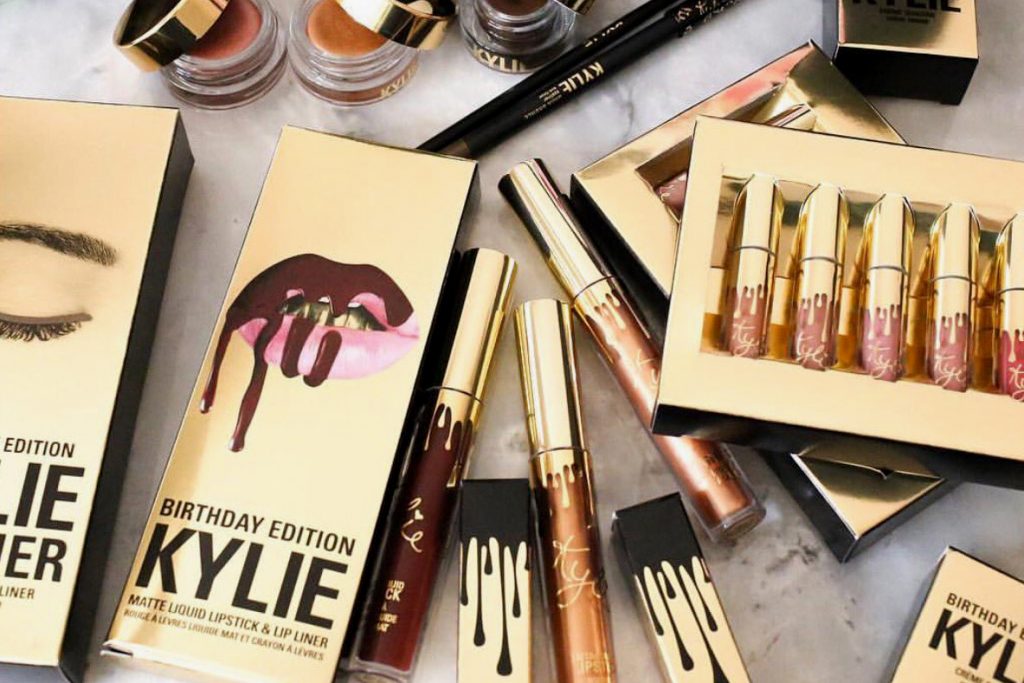 Cosmetics need to draw attention of all the women who can become potential clients for Kylie Jenner brand. For this reason, cosmetics have gold and black packagings that connote elegance and glitz or fashion and beauty world. For special attention deserves the cosmetics texture. Most of them have shimmering particles and provide the true party look.
What can you expect after Kylie Jenner cosmetics? First collection of Kylie Lip Kit sold out in the blink of an eye. The birthday edition of make-up cosmetics will probably meet the same glorious fate. Why? Not only the quality of products have a key role here. It's just that there is no girl who wouldn't want to have eye shadow or eyeliner from the Kylie Jenner! The sale is in a great way supported by the fame, name recognition and family of Kardashians. Wouldn't you want to use the same cosmetics as famous sisters?