Small seeds of flowery camellia are the secret of beautiful hair and flawless skin of the Japanese women. It has a sweet aroma and an intense, dark yellow colour. Inside, it conceals the power of vitamins and valuable fatty acids: oleic, palmitic, linoleic, stearic and peanut. In the countries of the Orient, it is regarded as an elixir of youth and – due to its fragrance – as an aphrodisiac. It enchants not only with a sweet fragrance – it's enough to bring to your mind the beautiful, radiant and smooth hair of the Japanese women to understand what an excellent conditioner is. How does camellia oil work for hair? What are the opinions and what are the effects of hair oiling with camellia oil?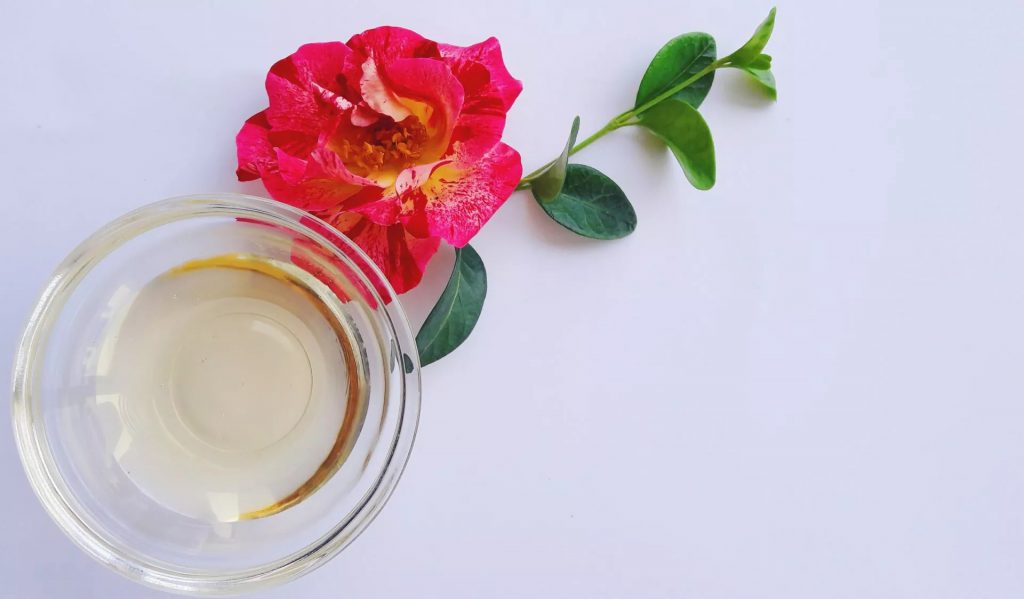 Camellia oil INCI: Camellia Japonica Seed Oil
Camellia oil – composition
A, B, E – vitamins responsible for the firmness and smoothness of the skin as well as hair vitality
polyphenols – antioxidants that fight free radicals
cameliophene A – a component of anti-ageing action specific for camellia oil
phytosterols – support the synthesis of collagen and prevent the breakdown of elastin
fatty acids: oleic, palmitic, linoleic, stearic and peanut
Camellia oil – properties 
Camellia oil is a wealth of ingredients responsible for the youthfulness of the skin and hair. It contains substances that slow down the ageing process, strengthen hair roots and prevent hair loss. It smoothes the skin and fine lines, brightens discolourations. Above all, camellia oil has a rejuvenating and beautifying effect. Japanese women love to apply it to the body and face, and – above all – to the hair.
Camellia oil in hair care – effects 
regenerates hair in its deeper structures
prevents dehydrating of the hair
provides optimal hydration of hair and scalp
camellia oil prevents the hair from getting frizzy
takes care of the ends of the hair: prevents splitting
protects against harmful UV radiation
is ideal for hair with medium porosity (consists of 80% oleic acid)
soothes irritations on the scalp
camellia oil helps to get rid of dandruff
strengthens hair roots
balances the level of sebum secretion
camellia oil smoothes out and polishes the hair scales
Camella oil – other purposes 
Camellia oil distinguishes itself among other oils: it has been discovered that it influences the production of procollagen and inhibits the destructive action of the enzyme MMP-1 (it causes the degradation of collagen in the skin), this makes it an oil with a strong anti-wrinkle effect, which increases skin elasticity and firmness and dramatically reduces the visibility of fine lines.
Camellia oil – price
Pure and cold-pressed camellia oil has a fairly high price. The process of obtaining it is tedious and somewhat time-consuming, therefore the price of camellia oil is higher than other natural and cold-pressed oils.
Camellia oil – reviews
Camellia oil collects positive opinions, especially as an anti-wrinkle face serum. Because it is relatively expensive, in hair care, it is often replaced with jojoba oil or passion fruit – their effects are comparable, and the difference in price – significant.