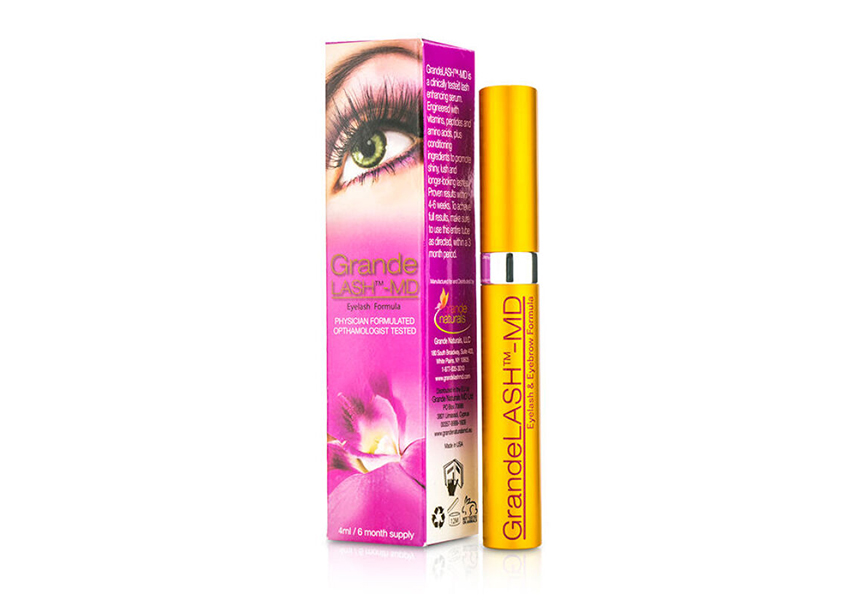 Grandelash eyelash conditioner comes in a golden bottle, made of thin metal. Silver strip separates the applicator from the bottle with red, simple letters.
Grandelash conditioner comes in two capacities: 2 ml and 4 ml. Those who want to try it out and see if there will be any allergenic reactions or eye irritations, can purchase a smaller version. Then, to complete the treatment, simply choose the one with larger capacity.
Grandelash eyelash conditioner has a very thin brush, with a few flexible and very elastic bristles. The advantage of the applicator is that it is to be applied to the lashline the way you use your eyeliner (application in the form of an eyeliner is the most effective method of nourishing eyelash bulbs). Grandelash conditioner needs about 10 minutes to be completely absorbed into the skin of the eyelids.
To notice the first results, you should wait about 5 weeks and for the full completion of treatment – about 9. Do not forget about regular application of the product (it is best to do this every night, after a thorough make-up removal). Grandelash eyelash conditioner darkens them and contributes to their growth. The formula of this serum is designed in such a way to beautify and nurture eyebrows and protect them from drying. After a few months, you will see that the lashes are nourished and moisturised.
Grandelash eyelash conditioner / notes:
Packaging -

6/10

Effectiveness -

6.5/10

Efficiency -

7/10

Use -

8/10

Price -

7/10

Eyebrow treatment -

5/10